Sukkot commemorates the years that the Jews spent in the desert on their way to the Promised Land and celebrates the way in which God protected them under difficult desert conditions. In this time of COVID-19 we too are experiencing the need for shelter at a difficult time. Yet, many of us do not have the ability to build a physical Sukkah even ritually "dwell" in one this year. We came together and built a Virtual Zoom Sukkah.
Join RespectAbility for a virtual lunch and learn, with a twist. Everyone is encouraged to use either a virtual backdrop or something that they can hold up to the camera to help build our Virtual Sukkah together.
This lunch & learn was taught by Rachel Rothstein, a 4th Year Rabbinical Student at HUC – JIR.
About Our Speaker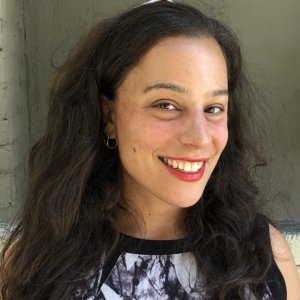 Rachel Rothstein is a fourth-year Rabbinical student at Hebrew Union College. Originally from Cincinnati, Ohio, Rachel decided to spread her wings and venture out west to study on the Los Angeles campus of Hebrew Union College as a way to broaden her horizons and learn about Jewish communities different from where she grew up! Rachel is a graduate of Miami University in Oxford, Ohio where she studied Comparative Religion and Anthropology. She has always been fascinated by communities anchored by religion and is motivated to continue building community after she is ordained. In her free time, Rachel enjoys hiking, biking, swimming and taking advantage of the great outdoors where she is less impacted by her severe hearing loss and can appreciate nature with 4 ½  of her senses.