#SNAPDeliverySavesLives
Washington, D.C. July 21 – With the COVID-19 pandemic raging out of control and many resisting wearing life-saving masks, something as simple as going to the grocery store can become a life or death decision. People with disabilities and other underlying medical conditions are uniquely vulnerable to this disease and need access to safe options for putting food on the table.
According to the CDC, 90 percent of COVID-19 hospitalizations are people with underlying conditions. Moreover, it is very hard for people who are blind to see who does or does not have a mask on. People who use wheelchairs cannot simply jump out of the way when someone comes near them without a mask. Thus, in places where people are not wearing masks or practicing full social distancing, RespectAbility – a national disability nonprofit – is encouraging people with disabilities to use food pickup or delivery so they can stay healthy.
"People with disabilities should not have to choose between starving and catching a deadly disease," said Jennifer Laszlo Mizrahi, president of RespectAbility. Thankfully, due to urging from RespectAbility and other groups and leaders, 43 states now have options to ensure that people with disabilities and other beneficiaries of the Supplemental Nutrition Assistance Program (SNAP), also called food stamps, can use their benefits to pay for online grocery deliveries. Further, 3 more states await final approval from the U.S. Department of Agriculture (USDA). Only 4 states have yet to announce any action.
Prior to the pandemic, just six states allowed SNAP users to order food online for delivery. The USDA announced in May that more states would be joining the online program to the point of "covering 90% of SNAP households."
Even before the pandemic hit, over 11 million people with disabilities depended on SNAP to pay for groceries and provide for their families. That is a significant number among the over 56 million Americans living with some form of disability. Disabilities include visible conditions such as spinal cord injuries, low vision or hearing loss and nonvisible disabilities including learning disabilities, mental health or Autism.
As such, disability organizations such as the National Disability Rights Network and the Arc of the United States have joined RespectAbility at the forefront of efforts to ensure that people do not have to risk exposure to the virus in order to put food on the table. RespectAbility launched a dedicated website to track states as they applied to join the online purchasing pilot and directly contacted leaders in every state to advocate for this major policy change.
This change reflects the political opinions and policy preferences of voters across the political spectrum. A recent battleground poll conducted by Democracy Corps on behalf of the Center for Voter Information shows that 81 percent of voters say they favor allowing people who use SNAP to be able to order and pay for groceries and delivery online, so they don't have to go into stores.
Even as issues like mask wearing become partisan flash points, people with and without disabilities need safe options to get their groceries.
Online SNAP Pre-COVID-19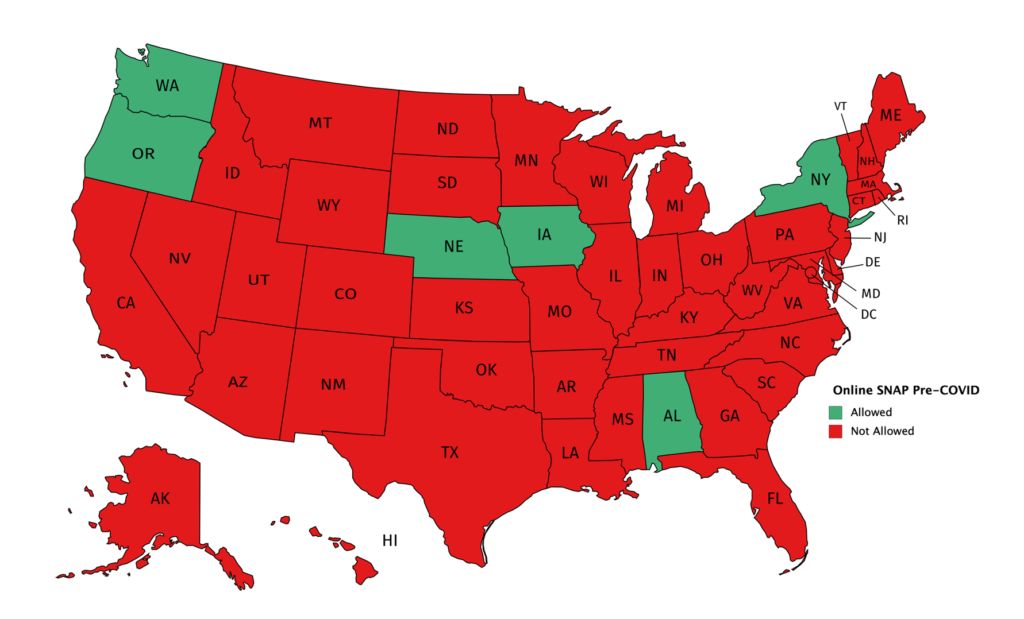 Status of Online SNAP as of July 20, 2020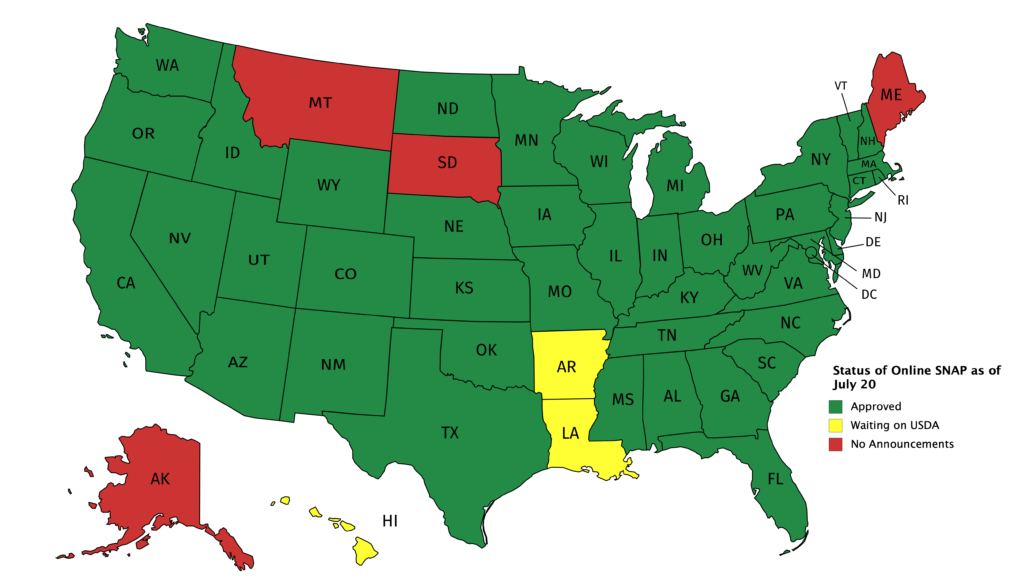 As of this writing, the governors of four states – Alaska, Maine, Montana, and South Dakota – have yet to announce any plans to join the pilot and ensure that their residents do not have to risk their lives to get food. Those states are in red in the map above. Three states – Arkansas, Hawaii, and Louisiana – have applied to the USDA and are now waiting for final approval to join the program.
The following states already now have been approved for online usage of SNAP/Food Stamps: AL, AZ, CA, CO, CT, DE, FL, GA, IA, ID, IL, IN, KS, KY, MA, MD, MI, MN, MO, MS, NC, ND, NE, NH, NJ, NM, NV, NY, OH, OK, OR, PA, RI, SC, TN, TX, UT, VA, VT, WA, WI, WV, WY and the District of Columbia.
Just because many states are now participating in the online purchasing program does not mean that the disability community's advocacy can end. Indeed, in most states, the only approved retailers are Amazon and Walmart. While these companies have essentially monopolized SNAP grocery deliveries in most states, the USDA is slowly adding more local grocers and retailers. In New Jersey and Pennsylvania, people can use TheFreshGrocer, they can use ShopRite in Connecticut, Maryland and New York as well as Wright's Market in Alabama.
In these challenging times, leaders in the public and private sector need to band together to meet the needs of the American people. Until that happens, advocates have their work cut out for them.
For the latest information from the USDA, please visit their website here: https://www.fns.usda.gov/news-item/usda-032620
For more background on the SNAP purchasing pilot, please visit the program page here: https://www.fns.usda.gov/snap/online-purchasing-pilot
If you are a person with a disability who may qualify to receive SNAP benefits, please see this handy how-to guide created by RespectAbility's staff: https://therespectabilityreport.org/2020/04/17/covid19-economic-benefits-guide/