#ADA30 Summit 2020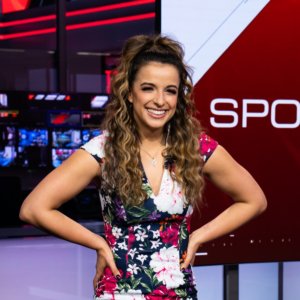 Victoria Arlen's life drastically changed in 2006 at the tender age of eleven when she developed two rare conditions known as Transverse Myelitis and Acute Disseminated Encephalomyelitis. This was an incredibly rare scenario and Victoria quickly lost the ability to speak, eat, walk and move. She slipped into a vegetative state in which doctors had written her off as a lost cause. Victoria spent nearly four years "locked" inside her own body completely aware of what was going on just unable to move or communicate. Doctors believed there was little hope of survival and recovery was unlikely. In 2010 after almost four years she began the nearly impossible fight back to life. Learning how to speak, eat and move all over again.
Victoria not only recovered but has since become an accomplished Motivational Speaker, Television Host and Swimmer. Her swimming resume includes three Silvers and a Gold medal from the London 2012 Paralympic Games as well as multiple World, American and Pan American Records.
In April 2015, Victoria made the transition from professional athlete to sportscaster and joined ESPN as one of the youngest on air talents hired by the company and reports and hosts across all platforms. In the Spring of 2016, after spending nearly a decade in a wheelchair paralyzed from the waist down, Victoria was able to learn how take one step after another and eventually not only did she learn how to walk but within a year and a half in the Fall of 2017 she learned to dance as a contestant on Season 25 of Dancing with the Stars. Victoria and her dance partner Val Chmerkovskiy quickly became fan favorites.
Victoria is also carrying out her dream of helping others, serving as the Founder and Co-Chair of Victoria's Victory Foundation, a nonprofit that assists those with mobility challenges to achieve their own personal victory.
Victoria's book titled Locked In hit stores worldwide in August of 2018 and in April of 2018 ESPN Films debuted a 30 for 30 titled "Locked In" based on Victoria's story at the Tribeca Film Festival. Victoria was a contributing producer for the film. Victoria became the face of Jockey in May of 2018 and debuted her signature clothing line Jockey by Victoria Arlen in September of 2019.  In July of 2019 Victoria was announced as the new host of America Ninja Warrior jr, Season 2 aired in February 2020.
In the last year, Victoria has branched into more creative spaces in both acting, producing, fashion and hosting with a variety of projects currently in the works.