"There is something everyone can do to be a helper, even just a simple text to connect with others can be so uplifting! During this crisis it is so nice to be helping others."
– Tonya Koslo
Tonya Koslo is the Director of Finance and Administration at RespectAbility. An experienced administrator whose skills include database management, state charitable registrations, computers, billing, legal requirements of human resource administration, websites and support services, she has helped RespectAbility since day 1 of our organization. This includes welcoming and onboarding each member of our staff and all of our National Leadership Fellows, a team of leaders with disabilities and strong allies who are working to fight stigmas and advance opportunities for people with disabilities.
Prior to joining RespectAbility, Koslo worked for Laszlo and Associates as the Executive Assistant and Office Manager and for eleven years in various capacities for the Mayor, Town Board and Town Administrator Biltmore Forest, North Carolina. In her free time, she volunteers at her church, is the president of her homeowner's association and is active in local adoption groups. A cancer survivor, she knows the stress and risk that the COVID-19 crisis puts on people with underlying medical conditions.
With the recent COVID-19 crisis, Koslo spent day and night learning about how RespectAbility can stay afloat financially as demands for our work increased and fundraising could dry up. This included applying for the SBA PPP loan. She not only completed our paperwork; she has helped several other nonprofits get on the right track so they could also apply for the loans.  While no groups have gotten a response yet to their loan applications, success in this project can mean eight weeks of free payroll for a nonprofit organization. Given the significant increase in demands for the work of groups that serve at-risk populations during this economic and public health crisis, funding like this can be a game-changer.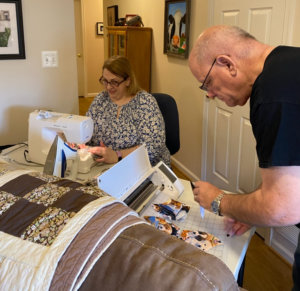 In addition to helping RespectAbility and other nonprofits, during her spare time, Koslo is making masks in conjunction with her husband Tim and one of his co-workers.  Tim works for Defense Intelligence Agency and uses a computer program to cut materials.  His coworker, Doug, has a 3-D printer at his home and makes the plastic head-straps for them. Koslo sews the materials together.  They are all using different skills to help as best as they can during this crisis.  Meanwhile, their fabulous two teen daughters are keeping up with their studies online and are assisting others online.  One of them is an award-winning artist and the other is an award-winning student architect. Additionally, as helping people runs in the family, their youngest is tutoring middle school Algebra for neighborhood kids.
RespectAbility loves all our staff, board and volunteers! We hope this short piece helps you get to know just one of our team members. We hope that you and yours are safe and healthy at this time.