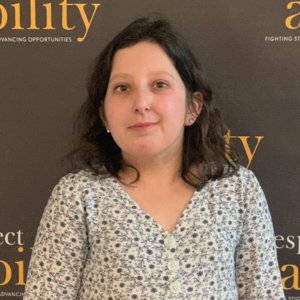 Traditionally, during the Passover seder, we ask four questions, starting with the well-known refrain "mah nishtanah ha'layla ha'zeh mi'kol ha'leylot: why is this night different from all other nights?" This year, there are far more than the traditional four answers to this query.
We are, right now, living in a time of challenge and hardship, a new "mitzraym" or narrow place for all of us, with a deliverance that will come not just before dinner served, but at an uncertain time in the future. We don't know when we will be fully free of coronavirus. We do know that we can each be a part of the redemption of each other's challenges, especially those faced by people with disabilities, and by others who, due to income or otherwise, lack adequate housing and food. It is a time when our global community, physically distant, is called to come together in spirit, to unify in an expression of our gratitude for what we have, and to support those who need it most.
This idea really resonates in this season of Passover. While we celebrate individual redemption and renewal, we recognize that just like the pandemic continues until all have recovered, we are not truly free until all in the world experience the same redemption.
While we recline against the pillows on our chairs, we must remember that redemption in this season will come from the doctors, nurses and other medical professionals who are pulling long, grueling and dangerous shifts at hospitals and medical centers – on their feet for hours at a time. While we eat our chicken soup with its mystical healing powers, we must remember that hospitals are making painful choices on the allocation of limited medical supplies, and some state guidelines seek to violate federal law by deprioritizing the lives of people with disabilities. I'm certain that everyone who recites the 10 plagues will be painfully aware of the plague outside our doors.
As we adapt, our tables will be set for fewer people than before, and families and guests will see us over our screens. But there is blessing in the challenge: virtual seders mean we can celebrate with family far away, and open our celebration to a greater number of guests, including those with disabilities for whom sheltering at home is an everyday experience. Here are some thoughts for these revised seders:
Kadesh – reciting Kiddush over the first glass of wine; express gratitude for making it this far into quarantine, for the break this yontif presents.
U'rechatz – washing the hands; something we've all become good at during quarantine – remember to wash for 20 seconds (maybe sing happy birthday once in English and once in Hebrew!)
Karpas – eating a vegetable dipped in salt water;  virtual seder bonus: no "double dipping."
Yachatz – breaking of the middle matzah; with gloves on.
Maggid – telling of the story of the Exodus from Egypt; ask more than just four questions – especially about how the world has changed and how we can in turn change the world, and remember that no one is free until we all are free.
Rachtzah – washing hands (again) before the meal; this time with a blessing – the tradition even has an ancient blessing for handwashing! – and maybe including some gratitude for soap and water.
Motzi – reciting the blessing for bread; no joining hands!
Matzah – reciting the specific blessing for matzah; the perfect quarantine snack!
Maror – eating the bitter herbs; bonus: your store was out of horseradish and you can eat romaine lettuce!
Korech – eating a sandwich of matzah and bitter herbs; it's okay to add charoset this year, we all need a little sweet with the bitter.
Shulchan Orech – eating the festive meal; what we've all been looking forward to for at least an hour.
Tzafun – eating the afikoman; now more than ever, we search for hidden joy.
Barech – reciting of grace after the meal; just don't spill wine on your laptop when you pound the table!
Hallel – reciting of praises; do the whole thing this year – you are not going anywhere!
Nirtzah – the conclusion of the seder; our prayerful redemption is "next year in Jerusalem," but maybe this year it's "next year in community."
While part of this was an attempt at humor, it is nevertheless important remember that the seder itself was an innovative response for critical situations, and this global pandemic calls for more.  Remember to celebrate in a way that is meaningful to you, and know that from this too, redemption will come.
Chag sameach, shavuah tov and next year, may we all be with loved ones.
---
In our Jewish Disability Perspectives newsletter, RespectAbility welcomes a wide spectrum of voices. The views expressed in each Jewish Disability Perspectives contribution are those of the guest contributor.