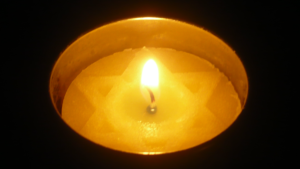 Today as we observe Yom HaShoah, Holocaust Remembrance Day, we think of the 6 million Jews and 5 million others, including people with disabilities, who were targeted for extermination in Nazi Germany.  It is easy to delude ourselves into thinking that all of the perpetrators of this horrific genocide were simply uniquely evil, and that somehow that generation of Germans disproportionately reflected the worst of humanity. And yet, that's really not true, is it? Hitler was evil. Eichmann and the Nazi Party's leaders were evil. But we must ask ourselves how they managed to sway a population of generally decent people into at best ignoring – and in many cases participating in – the mass destruction of fellow humans.
I believe the answer is caught up in the eugenics philosophies of early 20th century Germany. Many people who never would have thought to exterminate vast populations were perfectly comfortable with the idea that certain groups – Jews, Romani, LGBTQ individuals, and people with disabilities, just to name a few – were fundamentally inferior to heterosexual nondisabled Germans. Once that idea firmly took root, evil demagogues like Hitler could convince angry, hurting, economically disadvantaged Germans that these groups were the problem. Even then, the Holocaust, or Shoah, happened in baby steps: first, a few laws forming second-class citizenship, then violence and economic dispossession with Kristallnacht, followed by physical relocation, enslavement and, ultimately, death.
Hitler came to power in 1933, and unveiled the Final Solution nine years later, in January 1942. Yet, it was in the 1880s when Friedrich Nietzsche began publishing writings about the idea that human beings were superior and/or inferior. One could reasonably argue that it took 50 years to condition a society to where they were ready to be swayed by a few evil people with an agenda of destruction, couched in a system that placed different values on different classes of human beings. The slippery slope to the Shoah started not because of millennia of anti-Semitism, or because of sudden acute evil on behalf of the German people; but because anti-Semitism, combined with the systemic devaluation of certain human lives, created fertile ground for evil to flourish.
This is well understood. Those who wish to prevent genocide decry all manner of eugenics, lest we start down this slippery slope.
This, then, is our risk today. As we grapple with COVID-19, health codes methodically, clinically and scientifically lay out which lives are worth saving. For example, the state of Alabama put in writing that an intellectual disability makes one "a poor candidate for a ventilator." Other states have crafted a classification not because of individualized prognoses, but because of systematic devaluation of certain types of life. For those who require ongoing care, our risk is that the states' protocols started down the path of labeling one life less valuable than another. If this becomes the norm, I worry that 50 years from now – or sooner – inherently "good people" will be conditioned and susceptible to the demagoguery of evil. Evil that paves the way for yesterday's "good people" to then view those, like people with disabilities, as lives deemed of lesser or no worth.
Never Again. If we are serious this Yom HaShoah as we utter "never again," we must be mindful of the paths that lead us there, like devaluing disabled lives.
Never Again. We must ensure that the Nietzsche mentality never becomes acceptable within our society.
Never Again. Please join me – in memory of those who perished – as we say "never again," and then work like we mean it. 
Never Again.