Los Angeles, California, March 5 – "I don't look like people in Hollywood. I'm small. I have a disability. I wasn't sure if I could have a career."
Writer-director Ashley Eakin is breaking barriers. Once ashamed of her physical disability, Eakin is now proud to be an advocate and filmmaker in this community.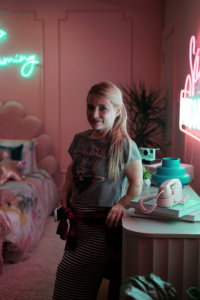 "My journey into accepting this part of my identity has been a very long one. For over 30 years, I was an unknowing ableist because I was so ashamed of my disability. I was consistently hiding my bone disease, until one day I realized I had my own unconscious bias. Unfortunately, a lot of society does see disability in a negative context, which had influenced the way I felt about myself all those years. I think once I was able to confront that bias, and understand the history and type of culture I was born into, I started to accept that maybe it's not my fault I feel this way. This was a big catalyst for my mission on wanting to change the way the world sees us."
Part of this journey was participating in RespectAbility's 2019 Summer Lab for Entertainment Professionals, which was powerful for Eakin to "look around and see that every person in that room had some type of disability." While Eakin was used to being in rooms with powerful executives, she always had been at the table on behalf of high-level producers and directors. The Lab put her at the table on behalf of herself.
"I never knew the day would come where I would be sitting at a table with these diversity executives are saying 'we want your stories, we want your perspective – not in spite of having a disability, but because of it.' And now I am finally getting it – we have all lived very unique lives, and that has value."
Bringing Disability and Accessibility to SXSW
Born in California and raised in Nebraska, Eakin is a writer-director based out of Los Angeles. Most recently, in 2019 Eakin worked for and shadowed director Mark Pellington on the Quibi series Survive, filmed in the Italian Alps starring Sophie Turner and Corey Hawkins. In 2017 she spent five months in Malaysia and Singapore working as the Assistant to Jon M. Chu on his film Crazy Rich Asians. She also shadowed Chu during the production of the Freeform pilot Good Trouble, as well as assist with the development of the Apple TV series Home After Dark.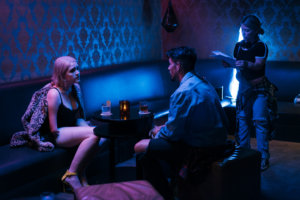 Eakin's newest project, Single, which tackles the complexities of dating while disabled, will have its World Premiere at the SXSW 2020 Film Festival. She produced the short while participating in the AFI Directing Workshop for Women and her work led to winning the New York Women in Film: Loreen Arbus Disability Awareness Grant. As part of that grant, Woman of Her Word's Michele Spitz ensured Single would have accessible assets for viewers who are blind and have low vision, as well as for those who are deaf or hard of hearing.
"Prior to meeting Michele, I did not know much about the accessibility features," Eakin said. "And now that I do, I want to be an advocate for it. It's not required in the film festival world yet."
While the other shorts in her program will not have closed captioning and/or audio description available to viewers, Eakin said SXSW was fully supportive of her, updating the film's page to say it will have these capabilities and ensuring it was showing at a theater with the technology needed to take advantage of these features.
The Bigger Picture
Eakin was uncertain of her future in the entertainment industry until a speaker in college, a distributor, visited to talk about the industry. When she noticed that one of his arms was paralyzed, "it opened my eyes and I thought maybe I could do this."
In 2017 Eakin was featured in a SoulPancake video talking about her rare bone condition. The video went viral reaching more than 50 million views. Her medical journey has immensely influenced her passion to pursue stories that advocate diverse representation for people with disabilities. Currently she is writing a coming-of-age feature film, inspired be her own life experiences.
Eakin's story is important to talk about because she is one of the one-in-four adults who has a disability in the United States. While polls show that most of them want to work, 70 percent of working-age Americans with disabilities are outside of the workforce. If we do not employ people with disabilities in Hollywood, we ignore and fail to employ 25 percent of Americans.
Only 35.7 percent of working-age (18-64) women with disabilities are employed in the U.S. compared to 72.8 percent of working-age women without disabilities. This leads to approximately 14.5 percent of women with disabilities living in poverty compared to 22.9 percent of women without disabilities.
Eakin not only represents people with disabilities in Hollywood but also as a woman with a disability. By getting more people with disabilities in behind-the-camera roles in the entertainment industry, Eakin said "that's how content is ultimately going to change – from the inside out," which will have a ripple effect in changing stigmas that people with disabilities currently face.