As we gear up for a light-filled holiday of menorahs with dripping candles, dreidels spinning in our surroundings, songs sung in our synagogues and homes and gifts getting wrapped for our loved ones, I want us to stop and think about another key aspect: food that we will prepare and/or share with family, friends, colleagues, and neighbors.
Our traditional "go-to's" for this holiday tend to be: latkes dolloped with applesauce and/or sour cream; chocolate gelt and babkas; and, more common in Israel, suvganiot (jelly-filled donuts).
Anthelme Brillat-Savarin once said, "you are what you eat." Yet how much do we think about our fellow Jews among us who are unable to eat what 'we' eat?  While the dietary restrictions of kashrut are culturally 'accepted', other dietary restrictions – in place to prevent painful or potentially life-threatening physical responses – are far less accepted.
Below is an illuminating piece on this topic written for the New York Jewish Week by self-advocate Rachel Chabin, entitled "Starved for Inclusion." As we wrap gifts; count candles to ensure we have enough for our eight-night holiday's menorahs; and prepare our festive meals as we welcome guests, may this article be food for thought.
Meanwhile, we hope you plan on joining us for JDAD (Jewish Disability Advocacy Day) on Tuesday, February 4th, and the first-ever "Erev JDAD" (Monday eve, February 3rd)! RSVP for either or both – your participation will enrich the experience for all!
And before I sign off, I want to remind you that we still have Fellowships open for our fabulous National Leadership Program here at headquarters. One former fellow said his participation was a "gift of a lifetime." Please share this opportunity with those in your network, as it could be a gift of a lifetime to someone you know and care about.
Respectfully,
Jennifer Laszlo Mizrahi
President, RespectAbility
---
Starved For Inclusion
By Rachel Chabin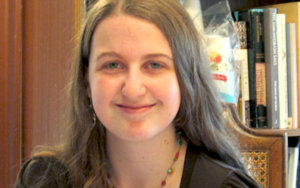 When you think of celebrating Jewish culture, one of the first things that come to mind is the food we eat. However, these meals are hardly comfort food for those of us with severe allergies or medical conditions that require dietary restrictions. While holiday meals and simchas can be exciting events for any Jewish person, being restricted by what you can eat means celebrations can become a trial and participating in them often becomes a hassle.
In December 2006, after months of pain and years spent at the bottom of the growth chart, I was diagnosed with celiac disease and began eating a gluten-free diet. Three years later I was diagnosed with diabetes.
While I have adjusted to these conditions and try to make the most of living with chronic problems, my restrictions still limit the choices I can make. In the past few years, spending time in Jewish summer camps and traveling with other students on religious immersion trips has been difficult — and in some cases, impossible — because I cannot eat what other participants can.