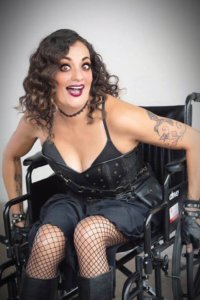 Los Angeles, Oct. 11 – Award-winning producer Diana Romero has worked in the industry for more than a decade. When she was diagnosed with multiple sclerosis (MS), she approached it the only way she knew how – with a sense of humor.
"When I started having issues with my legs, I withdrew from everything, because of a feeling of shame and embarrassment, mostly coming from not knowing how to live life without the use of my legs," Romero said in an interview with RespectAbility. "It wasn't until I decided to travel alone for six weeks that I regained confidence and then took it to the stage. Because I know a lot of people who don't have disabilities look at me and they think, I wonder what's wrong with her. I want people to see what my everyday life is. I want people to hear what I deal with…look at the things that happened to me in a humorous way…to me that's healing… I don't dwell on it; it doesn't keep me depressed."
In addition to producing, Romero is known for her acting and comedy routines, saying that both "comedy and entertainment [are in] my blood."
"Being able to make other people laugh heals," Romero added. Her comedy routine does not shy away from talking about her real-life experiences with a disability, including the dating scene.
"The nice thing about the entertainment industry is that we have all those kinds of jobs that we can do," Romero added. This is especially important for people with disabilities who may need to take a different path for their chosen field due to various obstacles and stigmas in the way of a traditional path for actors, producers, directors, writers and other entertainment professionals.
Her passion, not only for her own career, but for that of others, is reflected ironically when she was scammed by a talent agency at the very beginning of her career in entertainment. As an unknown in Hollywood, she experienced being green. In a both dicey and pricey encounter, she paid a lot of money to take an acting class. The company in charge of the class promised her a manager and her face on TV. She learned that the company only wanted her money, and there was nothing to the company. This experience led her to caution others of pay-to-play scams. Now, Romero has an agent who recognizes her disability is an asset and can help her succeed the right way.
Romero's accolades include recognition as a filmmaker, a comedian, an actress, and Ms. Wheelchair California, USA. Her awards for her first film El Camino include Columbia College's Latino student film festival audience award, and the film was an official selection for the Chicago Latino Film Festival. Furthermore, Romero won a Telly award for producing a documentary. She also wrote and produced Niña Quebrada that went on to screen worldwide and win numerous awards.
Romero's Latinx heritage has aided her Hollywood career. "Spanish has been wonderful because I can use it for my writing…I can communicate with people who don't speak English and especially in LA, there are a lot of people who are monolingual and only speak Spanish." Her language skills are a facet of her overall success.
As the country celebrates National Hispanic Heritage Month, which began on September 15, 2019 and ends October 15, 2019, it is important to include Latinx and Hispanic individuals with disabilities as well. More than five-million Latinx and Hispanic Americans live with a disability in the U.S. While studies show many people within the Latinx, Hispanic and other communities hide their disability due to negative stigmas, Romero has learned to use humor when addressing her disability. Just 38.6 percent of Latinx working-age individuals with disabilities are employed, compared to 79.1 percent of Latinx working-age individuals without disabilities who are employed. Romero, however, is bucking those trends.
Earlier this year, Romero was elected to the Producers Guild of America Power of Diversity Workshop with a TV series she developed. The pilot script has been picked up by a well-established producer.