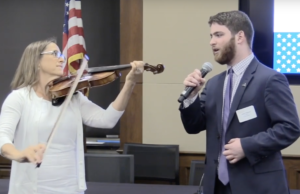 Washington, D.C., September 13, 2019 – Disability advocate and Philadelphia native Adam Fishbein recently completed a Fellowship with RespectAbility, a Washington, D.C.-based disability rights group, where he promoted the inclusion of people with disabilities in the Jewish community. Fishbein, who grew up in Elkins Park, Penn., recently graduated from American University. He currently is pursuing a Master of Public Administration from AU while serving as Senate Diversity Initiative Intern with Sen. Chuck Schumer (D-NY).
For Fishbein, RespectAbility's work aligns with one of his core Jewish values: areyvut, or communal responsibility. "We as a society have a sacred obligation to fully include and empower people with disabilities." Fishbein said. "Through RespectAbility, I have had the opportunity to fulfill this obligation."
Fishbein's work at RespectAbility included writing and recruiting contributors for the weekly Shabbat Smile newsletter, co-developing RespectAbility's Volunteer Corps, and handling disability-related accommodations requests at RespectAbility's annual Capitol Hill Summit.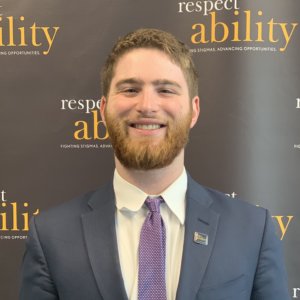 "I appreciated the opportunity to work with the Community Outreach team to recruit volunteers across the nation," Fishbein added. "I also gained incredible valuable event planning skills."
According to the Centers for Disease Control and Prevention, 1 in 4 adults in America have a physical, sensory, cognitive, mental health or other disability. But only a third of them who are of working age have jobs, according to the U.S. Department of Labor. Lack of employment not only puts people at risk of financial insecurity, but it's also the leading social determinant of poor health.
"At RespectAbility, our number one mission is to fight the stigmas that keep people with disabilities from finding meaningful work," said Jennifer Laszlo Mizrahi, CEO of Respectability. "They want to work. And they work wonders. While jobs empower these individuals with purpose and productivity, the companies that hire them boost both their bottom line and their company culture." 
A nonprofit, nonpartisan organization led by people with disabilities and their allies, RespectAbility works with policymakers, educators, philanthropists, journalists and the entertainment industry to promote accessibility and inclusion for people with disabilities. Its free tools and resources aim to help people with disabilities achieve equal opportunities in education, training, jobs, security and good health.
Fishbein is one of 169 graduates of RespectAbility's National Leadership Program. To learn more about the program or to apply, go to www.respectability.org/about-us/fellowship.
Media Contact:
Ben Spangenberg
[email protected]
(202) 517-6272 ext. 120