Honoring Women with Disabilities During Women's History Month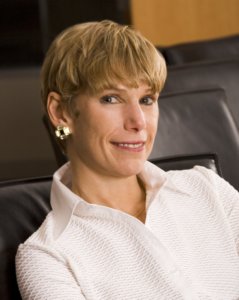 Lori Golden is committed to advancing opportunities for people with all abilities in the workplace, from serving on several nonprofit boards and working as a strategy leader for the accounting consultant firm Ernst & Young (EY).
Self-Advocate with Non-Visible Disabilities on Disclosing at Work
Golden is a self-advocate for people with disabilities. She has what many call "invisible disabilities," but Golden prefers to refer to them as non-visible.
"To me the term invisible carries tones of kind of purposeful concealment or hiding, and there's obviously no shame and no reason to hide," Golden said, who also is the mother of young adults with non-visible disabilities.
She acquired her disabilities later in her life – starting in her 20s. Golden asserts the importance of "sharing as much information as you need to" regarding one's disability in order to achieve desired outcomes. Sharing just enough, she says, ensures that one does not appear not to meet expectations.
While speaking at an empowerment training for women with disabilities last month, Golden provided an anecdote about a time when she was coaching a man with Asperger's and how he would inform his clients, colleagues, etc., about his occasional bluntness – without specifically labeling his disability – so that they could ask for a clarification if there was ever a misunderstanding. Sharing about one's own disability, Golden added, can bring people closer together.
Ensuring Inclusion at Ernst & Young for Employees with Autism and Mental Illness
Golden has dedicated more than ten years to diversity and inclusion efforts at Ernst & Young (EY). As the Abilities Strategy Leader at EY, she advises the firm's 1,000 member AccessAbilities professional network; leads initiatives to enhance accessibility in EY offices, processes and technologies; educates EY employees on abilities issues; and creates new recruiting and employment models.
"You're missing out," said Golden, when asked what advice she would give to companies without an inclusion strategy. "You're missing out by not necessarily tapping the best talent and skills. You're missing out on the innovation, creativity, flexible thinking, and problem solving of people who improvise every day."
As part of EY's culture, rather than branding people as disabled they refer to all people as people of diverse ability. Golden stresses how most people have a disability at some time in their life and emphasizes how difficult it is to marginalize something that is universally experienced. Therefore, she helped build innovative programs including EY's Neurodiversity Centers of Excellence, which trains individuals on the autism spectrum to work at the firm.
Rather than hiring for previous experience, they are hired for the aptitude to learn the skills necessary and are then trained on the job. Golden also heralds the "strong mathematical and technical abilities" people with autism often have. Many employees who are part of the program are those responsible for finding ways to automate tasks.
She also helped build We Care, a mental health education and awareness program that provides Ernst & Young employees with the ability to understand if a peer has a mental illness by "de-medicalizing it" and making it easier to talk about.
Just 34.6 Percent of Working-Age Women with Disabilities Are Employed
More than 20.9 million women live with a disability in the U.S., including more than 10.2 million of which are working-age (18-64).
Fully one-in-five Americans have a disability and studies show that most of them want to work. Yet 70 percent of working-age Americans with disabilities are outside of the workforce. Only 34.6 percent of working-age women with disabilities (3.5 million) are employed in the U.S. compared to 82.5 percent of working-age women without disabilities. This is in line with the rest of the country, with fully one-in-four American adults having a disability just 37 percent of those who are working-age being employed, despite polls showing that most of them want to work. This leads to approximately 22.6 percent of women with disabilities living in poverty compared to 14.7 percent of women without disabilities.
Leading the Way
Our nation's economy is strongest when it is inclusive of the value that diverse talent brings to the workplace. Haben Girma became the first Deafblind person to graduate from law school when she earned her degree from Harvard Law School in 2013. Harriet Tubman had epilepsy, performer Selena Gomez lives with lupus, business leader and Shark Tank superstar Barbara Corcoran is dyslexic, and gymnast Simone Biles has ADHD. Each of them, like Golden, is a positive role model for success.
Golden sums up the view Ernst & Young has of diverse abilities in two sentences: "Webelieve that people are disabled by two things: by their environment and by perceptions. We can change those, and we must change those."
Golden's dedication to changing the conversation surrounding disability cements her as a trailblazer in the field.
All throughout Women's History Month, RespectAbility will post pieces about female role models with disabilities. These women are featured examples of RespectAbility's #RespectTheAbility campaign, which highlights successful individuals with disabilities, as well as companies that employ people with disabilities. Read more today: