Disability Employment Toolkit Released
Long Beach, CA, March 28 – Dozens of leaders from across Long Beach gathered to discuss national lessons and local opportunities and to collaborate, to enable more residents with disabilities to get jobs. Meeting for nearly three hours at the Long Beach office of the College Internship Program (CIP), over 30 local providers, self-advocates, and community professionals met to talk strategies, brain storm ideas and make serious commitments to improving outcomes. At the community gathering, staff from RespectAbility revealed the brand-new Tools to Drive Employment resource. This new toolkit summarizes key steps the Long Beach community can take to expand job opportunities for residents with disabilities. This report represents the culmination of months of work made possible by a Knight Foundation grant and the past support of the Long Beach Community Foundation.
Event attendees had the opportunity to learn about one another's resources, build new professional connections, discuss common challenges and commit to closer cooperation in the future. The gathering included a  wide range of community organizations such as AbilityFirst; CA Charter Schools Association; CIP of Long Beach; California State University of Long Beach; Easterseals Work First; Fiesta Educativa; Goodwill SOLAC; Harbor Regional Center; Hillside Enterprises; ICAN: California Abilities Network; Jewish Federation of Greater LA; Khmer Parent Association; Long Beach City College; Long Beach Unified School District; Social Vocational Services; and RespectAbility. The event was generously hosted by the College Internship Program (CIP) of Long Beach. CIP offers a wide range of supports, services and job training for young adults on the Autism spectrum and students with learning and other disabilities.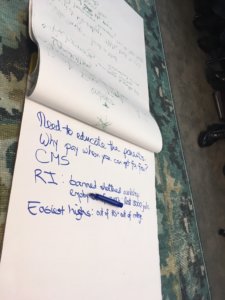 The brainstorming kicked off with a discussion of challenges and opportunities across the life span of youth with disabilities living in Long Beach. The idea of "Progression Goals from HeadStart to Independence" served as a springboard for collective brainstorming, discussion of fighting stigma and the continuing need to outreach to parent across the community.
The gathered partners then had the opportunity to hear from RespectAbility about the development of the new Tools to Drive Employment resource. This toolkit, which is available in both English and Spanish, is part of a larger project to increase employment opportunities for individuals with disabilities in Long Beach.
Long Beach is home to more than 46,000 people with disabilities, while local schools teach more than 9,000 students with disabilities.
Key topics include:
Up-to-date education and employment statistics for the Long Beach community.
Recommendations on making the best of limited resources, raising public awareness and proving free resources.
Support for businesses to recruit and hire employees with disabilities.
Prioritize youth with disabilities as a key part of local workforce strategies.
Respectability knows, however, that reports alone do not create progress. Thus, the gathering was focused on collective action that real action and progress can take place. Talented local partner organizations involved in the conversation made new commitments around 1) reaching out to federal contractors, 2) examining ways to align local policies to support employment, and 3) looking at the talent pipeline of students with disabilities on track to leave the local school system.
As the result of a group discussion about employer engagement strategies, career opportunities with federal contractors working in Long Beach was discussed. Thanks to regulations implementing Section 503 of the Rehabilitation Act of 1973, almost all companies doing business with the Federal Government now have a 7 percent utilization goal to recruit, hire and retain qualified individuals with disabilities. Critically, this goal spans all job categories, opening new career pathways for people with disabilities. Future outreach opportunities now include Boeing, McKesson and Cardinal Health as well as other locally based federal contractors. Many of these companies have become driving forces behind efforts to include people with disabilities in corporate efforts to promote diversity and inclusion.
Partner organizations discussed the critical need to make opportunities in local and city government fully accessible to people with disabilities. Guiding these local opportunities will be national lessons drawn from the Better Bottom Line initiative of the National Governors Association and the Work Matters report from the Council of State Governments. Lastly, there was clear agree among local leaders about the value and impact of recognizing inclusive employers and connecting them to students with disabilities on track to leave the local school system.
Beyond this unique gathering, several organizations in the greater Long Beach area have exciting events coming up in April. The Harbor Regional Center, for example, will be hosting a special Transition Resource Fair on April 25th, along with a full calendar of other community events. Likewise, CIP Long Beach will be hosting a special Conference and Mini Job Fair in partnership with Let's Talk LD on Saturday, April 28th, from 10:00am to 4:00pm.  CIP's event will focus on students considering their post-secondary options, transition professional working in the local area and will have information for parents eager for more resources to support their child's success. Full event information and more can be found on CIP's website.
In reflecting on the event, Philip Kahn-Pauli, RespectAbility's leader in advancing opportunities for people with disabilities, said, "Long Beach is on a ground-breaking and inclusive journey toward better education, training and economic successes. It's truly amazing to watch as a diverse and talented community works together to enable youth with disabilities to have a better future.
LEARN MORE