Join our seventh Twitter chat on September 13 at 9/8c!
Hosted by Lauren Appelbaum and Cara Liebowitz of RespectAbility, this Twitter chat will take a look at ideas explored in Born This Way by the young adults with Down syndrome and their parents. Following this chat, join us in live tweeting each episode of the second season, airing on A&E at 10/9c.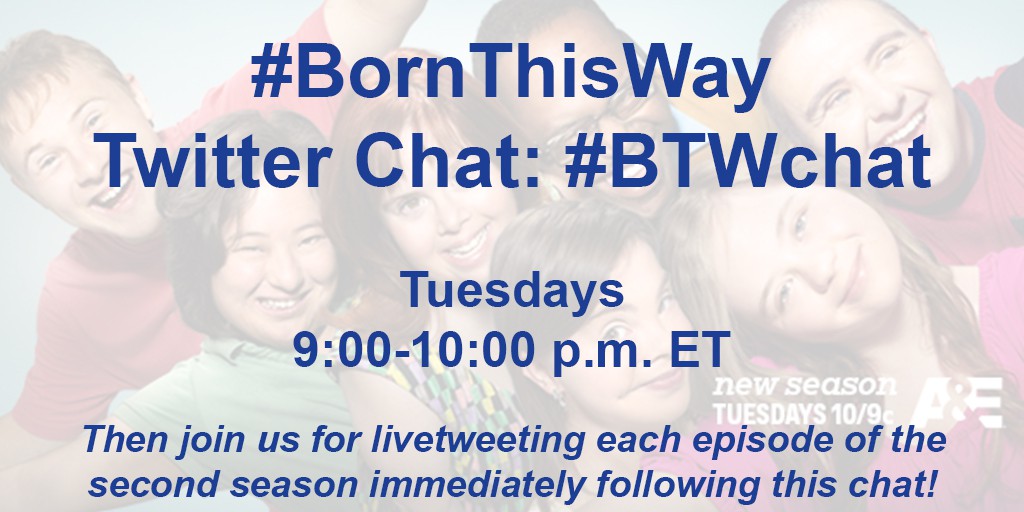 Tuesday, September 13, 2016, 9:00-10:00 pm ET
Don't have cable? You can livestream the show on A&E's app. You can find the questions for this chat in this post.
How to Participate
Introductory Tweets for September 13 #BTWchat
#BornThisWay airs tonight on @AETV. Don't miss these incredible stories at 10/9c. https://youtu.be/W1QRQCd_BAU
Welcome to our Twitter chat. Please remember to use the #BTWchat and #BornThisWay hashtags when you tweet.
If you respond to a question such as Q1, your tweet should follow this format: "A1 [your message] #BTWchat"
When we say PwDs or disability, we're talking about all types of disability. Feel free to speak about specific communities #BTWchat
For each domain, we'll ask for your views, stories, potential solutions, recommendations #BTWchat
Questions for 9/13/16 #BTWchat
Q1 How does seeing #BornThisWay cast members succeed in their life goals help you work toward doing the same? #BTWchat
Q2 What creative outlets have you found to help you succeed and manage anxiety? #BornThisWay #BTWchat
Q3 Party settings can cause additional anxiety. What advice do you have for dealing with this? #BTWchat
Q4 Do you think any stigma or perceptions about disabilities & mastering life skills have changed as a result of #BornThisWay? #BTWchat
Q5 How do you handle a situation when some friends are dating and others have yet to experience a relationship? #BTWchat
Q6 What additional relationship (friendship & romantic) challenges do people with disabilities have? #BornThisWay #BTWchat
Q7 Do you think the portrayal of relationships in #BornThisWay is accurate? #BTWchat
Q8 Do you think seeing people with disabilities on TV in everyday life situations like #BornThisWay will become more common? #BTWchat
Q9 What types of shows, besides reality shows like #BornThisWay, do you want to see people with disabilities represented in? #BTWchat
Closing Tweets for September 13 #BTWchat
This ends our #BTWchat chat. Many thanks to everyone who participated. Now let's watch #BornThisWay!
Please feel free to continue the convo and answer more #BTWchat questions as the next episode of #BornThisWay begins.
Liked #BTWchat? Don't forget to livetweet the episode using #BornThisWay – starting now!
Let us know what you think is most surprising moment of the episode! What was the most powerful moment? #BTWchat